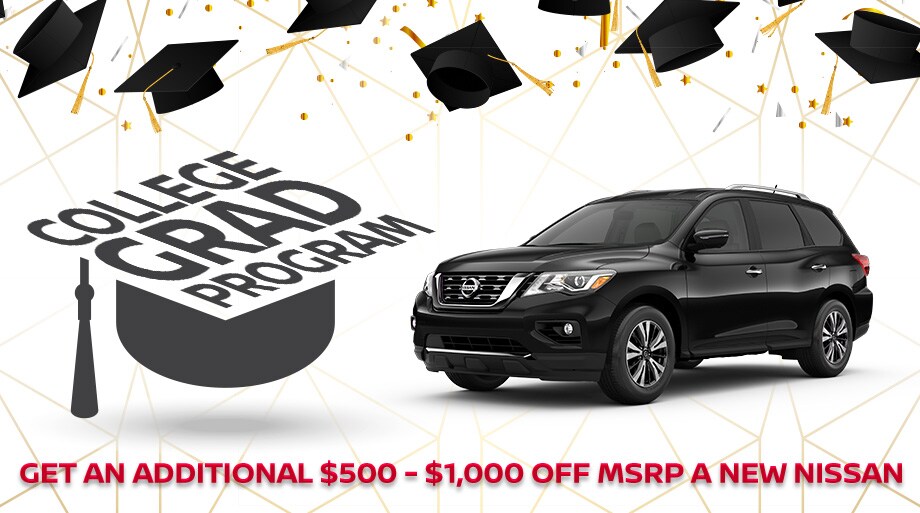 Attention college graduates! If you're thinking about buying a new car, you've come to the right place!
At Illini Nissan, our College Grad program could help you save up to $1000 off MSRP on a new Nissan! Plus, we'll help you combine your Graduate discount with other current Nissan offers so you can save even more!
What Is The College Grad Program?
The College Grad Program is available for any college student pursuing an associate's, bachelor's or graduate degree within 6 months of graduation! All you need is proof of future employment beginning within 90 days.
We also accept college grads up to 24 months post-graduation - just bring us your transcripts or diploma!
Plus, Nissan recently created one of the biggest sponsorship deals of collegiate athletics ever, with participation from more than 100 schools. Students at any one of those universities are eligible to receive a $1,000 discount on a new Nissan LEAF through the College LEAF Vehicle Purchase Program.
Visit Illini Nissan Today!
Don't put off buying that new car any longer. Take advantage of the Nissan College Grad Program at Illini Nissan.
Fill out the form to begin your application process now, then bring us your offer letter, Transcript, or diploma. You'll be driving home in a new Nissan before you know it!