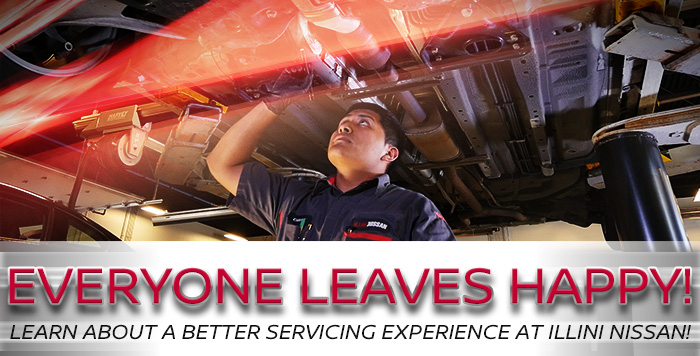 Why service with us? Because at Illini Nissan, we're committed to making your service experience the best it can possibility be. Discover all our exclusive customer benefits today!

When you bring your vehicle to us, we promise five things:




We will take the time to understand your service request
We will update the status of your vehicle
We will get your confirmation on any changes to the scope of the work needed
We will service your vehicle in the most timely manner possible
And we will give you a detailed explanation of the services we performed

Illini Nissan is very proud of our service team, which includes advisors and technicians. Between them they have over one hundred years of Nissan experience and are always ready to help you with any questions you have about your Nissan.


Just like a restaurant we have our rush hours. Our least busy times are weekday afternoons. So stop by or schedule today with this in mind and get serviced even faster!

Our dealership is equipped with plenty of conveniences while your vehicle is being serviced. Stay comfortable and entertained with satellite TV and high-speed Wi-Fi.
While you wait enjoy your favorite hot beverage including cappuccino, chai tea, hot chocolate, and of course coffee.
Plus, fresh fruit every day and donuts on Saturday!
If you don't wish to wait at our dealership, we offer a complimentary shuttle service to nearby areas, as well as rental vehicles for overnight repairs.

We can go on and on about what you'll experience, but our customer's do a great job for us, read just come of our reviews below, and schedule your appointment now!
Very friendly and honest service! Representatives answered all questions very thoroughly. This is my second time receiving car service and will be back in the future - Google Review
They regularly perform service on my 2011 Versa and 2005 Corolla. I've never had a problem with them and they get things done on time and have a very comfortable waiting room that sometimes have donuts and always has coffee. - Google Review
Service center has been helpful and quick to get the work done I needed. I would recommend to others. - Google Review

Don't wait! Click the button to schedule your service appointment. Then head to Illini Nissan to get a superior customer service experience!