4 Highlights of the 2021 Nissan Altima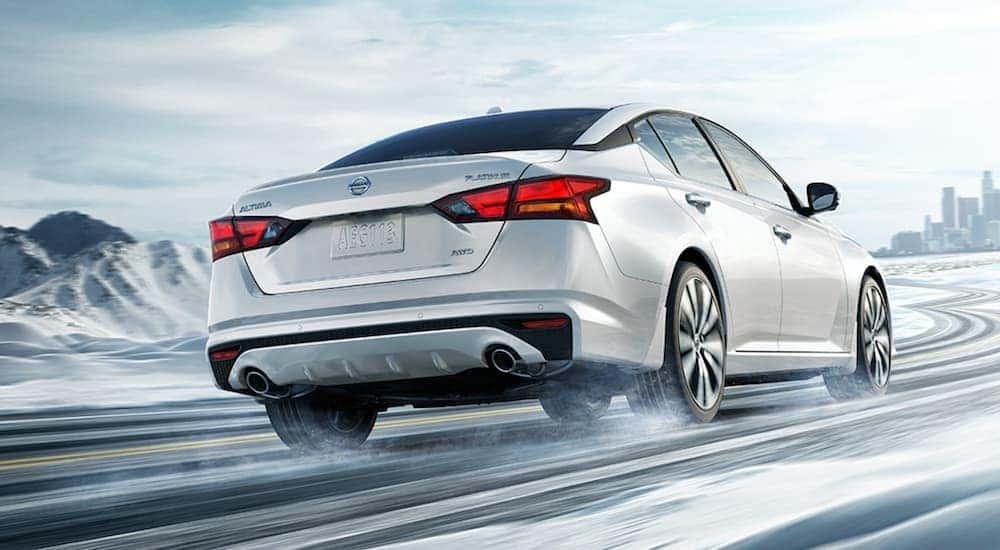 If you are interested in a car that has a lot going for it, then you should look into visiting a Nissan Altima dealership. It appeals to a wide range of consumers thanks to its sporty looks, roomy interior, and safety systems, all at an affordable price. In addition, the 2021 Altima is a midsize car that boasts a powerful turbocharged engine, good fuel economy, and a comfortable ride. So if you are in the market for a good vehicle for commuting and weekend errands, there isn't a better choice.
The 2021 Nissan Altima might not be the flashiest car in the lot, and it isn't the fastest sedan on the road, but it does have user-friendly tech features, fancy upgrades in higher trims, and an excellent powertrain – in other words, everything you could want in a car. Even the base model offers many of the features drivers desire. Here are four highlights of the 2021 Altima that are sure to pique your interest in this exceptional model.
#1 – An Exciting Powertrain
The standard engine in the Altima is a 2.5-liter four-cylinder, which is quite powerful at 188 horsepower. But that isn't going to satisfy every driver who desires a little punch in their ride. So Nissan also offers a 248 horsepower turbocharged 2.0-liter engine that will have you merging onto the highway with confidence and ease. Both engines are paired with an automatic continuously variable transmission (CVT).
The turbocharged engine option offers a few goodies that are sure to give your ride a little more excitement. There are steering wheel paddle shifters that can be utilized in manual shift mode, letting you decide when you want to shift. You can also enjoy 19-inch wheels, which in addition to being aesthetically pleasing, give the Altima sharper handling and a sportier ride.
Both engine choices boast good fuel economy, especially considering that the Altima is not a hybrid model. The 2.4-liter engine delivers a surprising 28 mpg in the city and an impressive 39 mpg on the highway. The turbo engine option also fares quite well, considering the power. You can expect to get 25 mpg in the city and 34 mpg on the highway.
#2 – An Exceptional Infotainment System
While the base model Altima has a seven-inch touchscreen, all of the other five trims have a standard eight-inch touchscreen. This large screen is your gateway to plenty of capabilities beyond just Apple CarPaly and Android Auto. The infotainment system is powered by NissanConnect, and the innovative technology is sure to enhance your driving experience.
NissanConnect is a combination of systems all wrapped into one dash-mounted screen that is designed to improve your driving experience and reduce distractions. You can enjoy security, navigation, and entertainment all on one screen. The system is easy to operate and can be controlled through touch and voice. You can even connect directly to emergency services should the need ever arise.
Your traveling experience will be enhanced through the entertainment features of the infotainment system. You have the ability to stream music through Bluetooth, SiriusXM satellite radio, and even iHeartRadio. With so many music options, you will never have to listen to talk radio or golden oldies because they are the only radio stations that have good reception.
NissanConnect is a lot like having a laptop or tablet mounted on your dash, and you can connect to Twitter and other popular social media apps without having to touch your smartphone. Getting safely to your destination is also made easy when you opt for built-in navigation. You can use navigation to find the best route even without your phone with the built-in map system.
You can start your Altima from the comfort of your own home by utilizing NissanConnect for Amazon Alexa or your Google device. You can order the specific features that you desire or order package deals that include the options and features that fit your needs.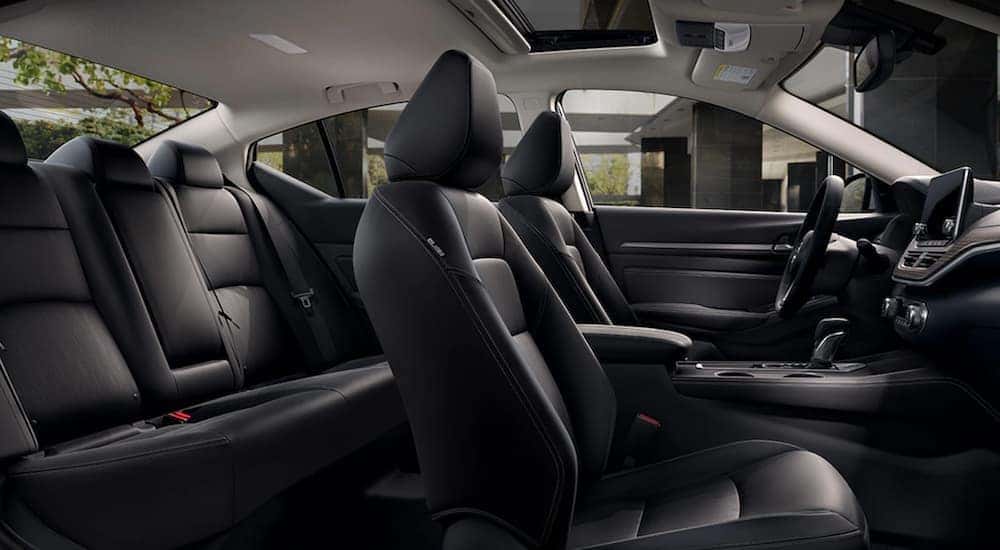 #3 – Plenty of Room
The Altima might look like a smaller sedan, but the cargo space and interior are surprisingly ample. With the 60/40 split-bench seat in the rear, you can fold one or both sides down for additional cargo space. In addition, with the back of the cabin and trunk combined, you have a lot of room to store your cargo. The trunk alone accounts for over 15 cubic feet of cargo space.
Passengers in the front will enjoy 43.8 inches of legroom, while passengers in the back have 35.2 inches of legroom. There is also plenty of headroom in the Altima, with nearly 40 inches of headroom in the front and 36.9 inches of headroom in the rear. In addition, the Altima seats five comfortably with over 100 cubic feet of passenger volume.
On top of having plenty of passenger space, the Altima boasts super comfortable Zero Gravity seats, with heated seats available on several trims. The dual-zone automatic temperature system means your passenger can enjoy the same personalized climate settings that you do without any need to compromise. There isn't anything complicated about the interior of the 2021 Nissan Altima; it is modern and super functional, which is very desirable.
#4 – Advanced Driver-Assist Systems
Each Altima trim level has at least a few standard driver-assist systems you will appreciate. Part of the standard safety package includes Intelligent Forward Collision Warning and Automatic Emergency Braking, and the former can even detect the presence of pedestrians. The Altima also enjoys Intelligent Lane Intervention as standard; this feature will alert the driver when they start drifting out of the lane and safely correct the steering.
There are plenty more safety and driver-assist features and systems in the rest of the Altima trim lineup. At the SV trim level and above, rear cross-traffic monitoring and blind-spot monitoring are included. When backing up, if the system detects an object in the way, it will apply pressure to the brakes to avoid a collision.
The Altima rates very high in third-party safety ratings. In IIHS safety ratings, the 2021 Altima was named a Top Safety Pick+ for its excellent crash test scores and standard safety features. This includes the Altima's Superior rating for front crash prevention results. In NHTSA safety testing, the 2021 Altima received a perfect five-star overall safety rating.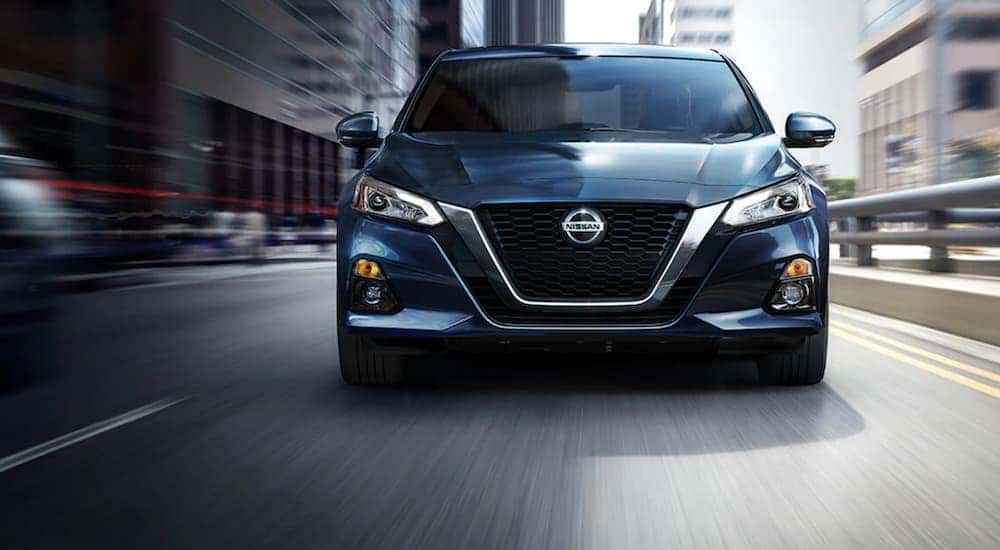 The Nissan Altima is Here to Excite
Illini Nissan is your go-to destination if you want to find the Nissan car, truck, or SUV of your dreams. Whether you are in the market for the all-new Altima or if you have your heart set on a Rogue, Murano, or some other model, we have a Nissan with your name on it. Thanks to our impressive inventory of new and used Nissan models, we have exactly what you are looking for. Even better, as soon as you step foot into our showroom, you become a part of the Illini family.
Our friendly and knowledgeable staff will go out of their way to ensure that your expectations are not just met but exceeded. Every member of our team is attentive, focused, and professional, and they are eager to ensure a pleasant car-buying experience. We accomplish our goal to exceed your expectations by providing a relaxed and friendly atmosphere and a hassle-free experience. We pride ourselves on our stellar reputation for delivering high-quality models with the best customer service in the industry. What are you waiting for? Stop by Illini Nissan and take a test drive today!