Nissan's Lineup: The Perfect Models for Champaign Drivers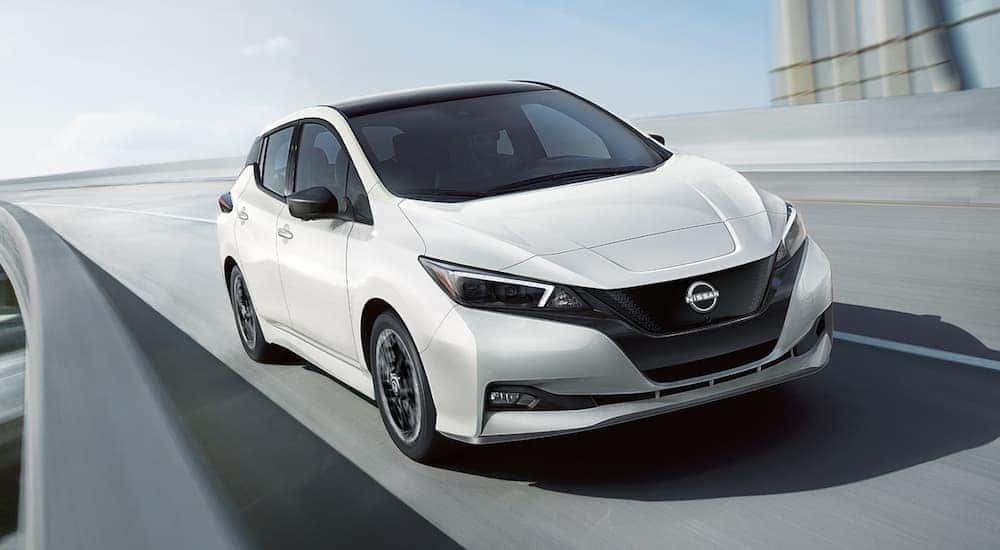 Nissan has a remarkable lineup of models out right now that is composed of sport sedans, SUVs packed with features, and rugged pickup trucks that work hard and play hard. With so many Nissans, how does a driver pick one out when tasked with buying a new ride? Much of it will depend on your individual needs. While some drivers need something small to zip around town in, others seek that perfect three-row SUV to transport the whole family.
A little research goes a long way, saving you countless hours wandering a dealership showroom floor and wondering what vehicle best fits into your lifestyle and budget. Fret no more! As your local Champaign, IL, Nissan dealer, we've done some digging into today's most popular Nissan models from all three segments: sedan, truck, and SUV. These picks are some of our personal favorites, but even if they don't seem quite right for you, don't worry because we can help you find a model that works for your lifestyle.
Why Nissan?
Before we get into the nitty gritty of our top three choices, it's important to understand that Nissan has been hard at work for decades, nurturing a reputation for building reliable, quality vehicles at a price that most drivers can afford. Nissan vehicles are designed around performance, comfort, and an accessible price point. It's not uncommon to find models on the road with well over 100,000 miles on the odometer. When properly cared for, Nissans are built to go the distance; that's why Nissan is the go-to brand for millions of drivers.
Vehicles like the Maxima and Altima have stood the test of time, selling in impressive numbers for decades, thanks to their features and how easy these two models are to drive. Meanwhile, a model like the Nissan GTR shows off the brand's prowess and ability to deliver an astonishingly fast car. Nissan has evolved over the years, perfecting vehicles like the Rogue, one of today's best-selling SUV models. As the automotive industry shifts and dependency on fuel becomes a top priority for customers, Nissan's focus has moved to designing efficient cars and trucks that off conservative gas mileage. Whatever the issue may be, Nissan works closely with its consumers to follow trends and design vehicles that are modern, safe, and innovative.
The 2022 Nissan Rogue
One of Nissan's best-selling vehicles is the Rogue. Versatile and filled with convenient features, the Rogue offers its drivers plenty to love. The Rogue has award-winning safety features, making it a great choice for families. It also comes packed with entertainment options and a luxurious feeling interior at any trim level. Combined with its generous cargo space, it's no wonder why this SUV is a landmark for the brand.
The 2022 Nissan Rogue was named a Top Safety Pick+ by the Insurance Institute for Highway Safety for its outstanding crash-safety performance. Nissan is proud to offer the safety and driver assistance features that are standard in Nissan's Safety Shield 360. This includes standard Automatic Emergency Braking with Pedestrian Detection, Rear Automatic Braking, Blind Spot Warning, Rear Cross Traffic Alert, Lane Departure Warning, and High Beam Assist.
The Rogue's interior is spacious, perfect for short commutes around Champaign and longer road trips to Chicago. An optional motion-activated liftgate makes everyday tasks simplified, and the '22 Rogue has tons of cargo space behind the second row of seating. You can further customize your comfort level by going with a trim that has a memory setting for your seat and side mirror positions, a Dual Panel Panoramic Moonroof so you can enjoy the fresh air and sky, and premium sound from a state-of-the-art Bose audio system.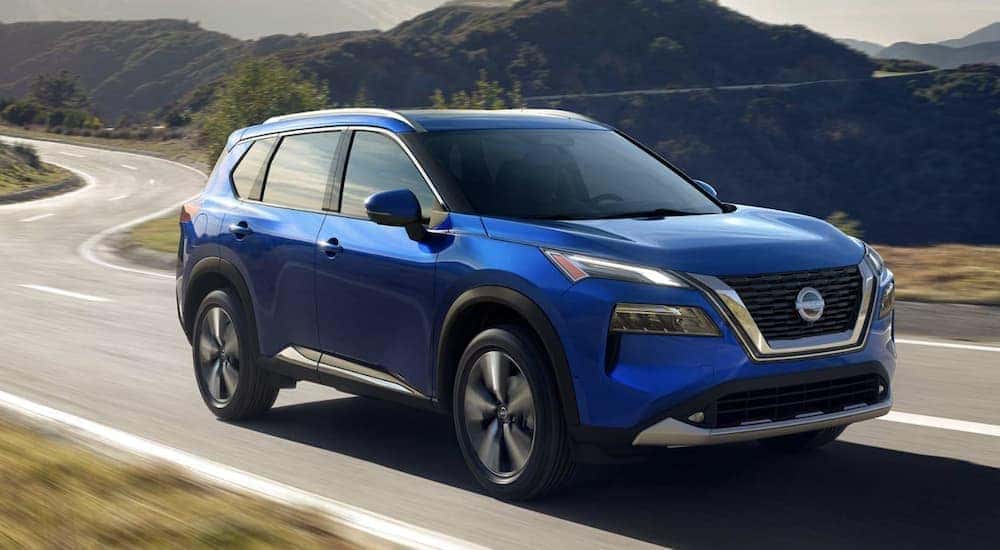 The 2023 Nissan LEAF
For the car segment, we wanted to pay tribute to Nissan's EV hatchback: the Nissan LEAF. The 2023 model is the best one yet, serving up top-tier performance with a healthy side of range. The 2023 LEAF's exterior received a bit of a makeover from previous years. Plus, it comes stacked with safety and driver assistance features that are high-tech and highly sought after. Like the rest of the country, Champaign is seeing the expansion of public fast charging ports, making it more accessible now than ever to get behind the wheel of an EV.
For drivers still concerned about the landscape of public chargers around Illinois, the LEAF offers plenty of range to soothe your anxiety. Choose from either a 40 kWh battery that offers 149 miles of range on a full charge or the larger LEAF SV PLUS with a 60 kWh battery that gets you up to 212 miles on one full charge. Because it's electric, acceleration is instant. The LEAF's low center of gravity and aerodynamic design, along with the electric motor, delivers an exciting driving experience every time.
The LEAF's interior comes with convenient features like Nissan Intelligent Key and push start technology. Both the driver and passenger seats are either six-way adjustable manual buckets or eight-way power adjustable with two-way lumbar support and available heated seats. The infotainment system features NissanConnect and an eight-inch touchscreen with intuitively placed controls that help keep your focus on the road even as you adjust settings.
The 2022 Nissan Frontier
For our pickup truck enthusiasts, the 2022 Nissan Frontier is here to get the job done. This Nissan truck is as durable as it gets. Affordable and reliable, the Frontier comes in just about every truck variation you can imagine. Find it in King Cab or Crew Cab with a 4×2 drive system or a 4×4 drive system. The 2022 revamp comes with a more quiet interior and a revised suspension that handles better on varying terrains.
The 2022's naturally aspirated 3.8L V6 is a powerful companion to any driver using their truck for work purposes in Champaign and surrounding areas. The engine dutifully generates 310 horsepower and 281 lb-ft of torque. Choose from rear-wheel or four-wheel drive that pairs with a seamless nine-speed automatic transmission. With the proper equipment, it can tow up to 6,720 lbs. Mixed with the improved suspension, this Frontier's drivetrain is the best to date.
Nissan added some soft-touch surfaces throughout the interior to bring the 2022 model up to date. These surfers feel better to the touch while maintaining the durability needed for a working truck. The infotainment center has an eight or nine-inch touchscreen display with connectivity for Apple and Android devices. Finally, you can elevate the interior by opting for a trim that comes with a heated steering wheel and heated seats to help you cope in the roughest of Illinois winters.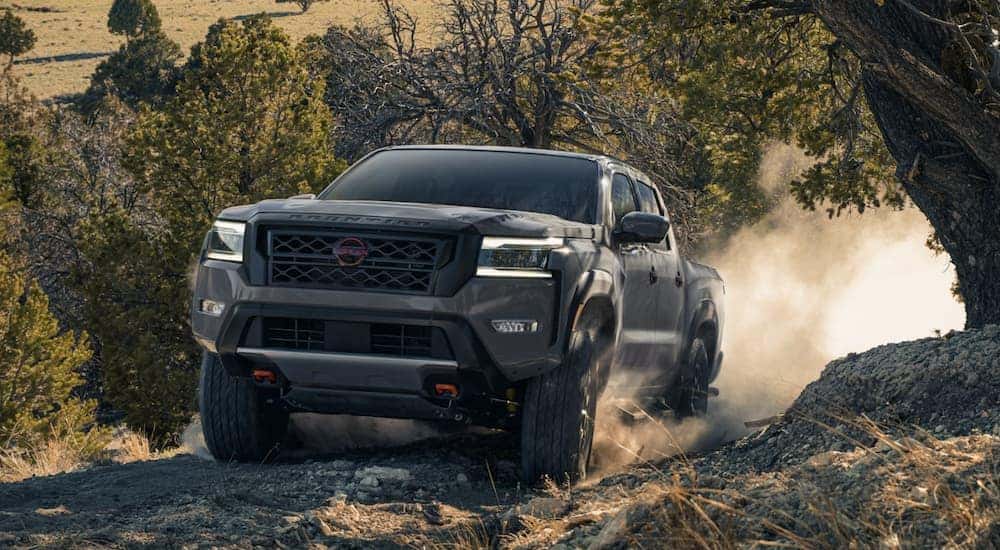 Three Top-Tier Nissan Options
The needs of drivers in Champaign, IL, are as vast as any other metropolitan area. Thankfully, Nissan has options for everybody. The Frontier is the perfect pickup truck for customers who need a strong and capable vehicle to transition from worksite to home life. The Nissan Rogue is a versatile SUV that connects you to all the benefits of a safe vehicle with all of the modern touches that can make a vehicle fun to drive. Finally, the Nissan LEAF is Nissan's groundbreaking venture into the EV market, a user-friendly and affordable EV that redefines commuting by eliminating the need to pay at the pump.
All three represent Nissan's values, reliable and accessible vehicles that look good and feel exciting. Which one is right for you will depend on your needs and how you plan on using your vehicle. When you've managed to narrow it down, head to Illini Nissan and give one a test drive. Regardless of which you choose, you're in good hands with a Nissan.