Selling or Trading in Your Car – What to Know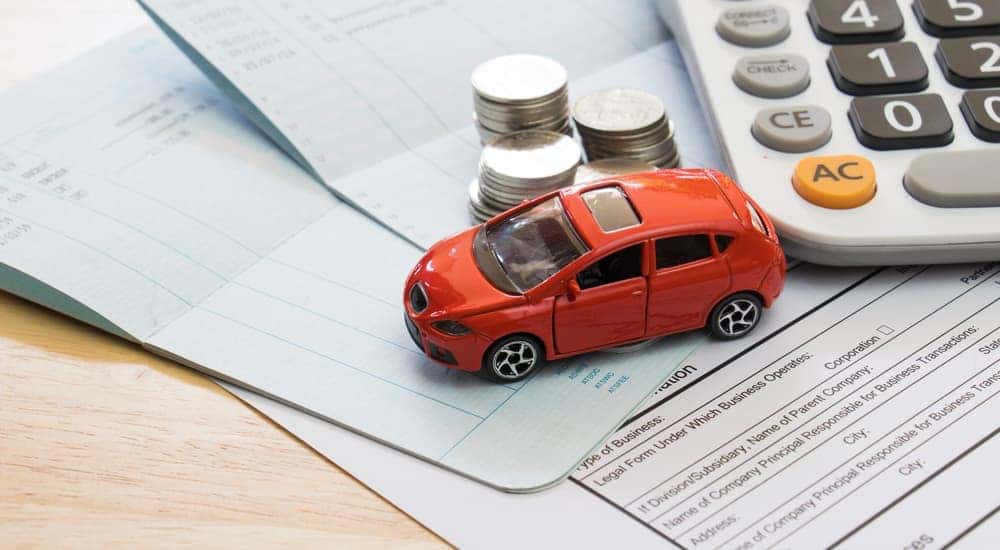 Are you wondering, "is it time to sell my car?" The process of buying a car can be stressful and time-consuming. Making the right decision takes careful consideration, as well as possessing a firm grasp on what best suits your wants and needs. A similar decision, although sometimes nowhere nearly as stressful, is deciding whether to sell or trade-in your current vehicle. Perhaps you're looking at what you have in the driveway and know that it's time for an upgrade. Why not seize the initiative and use what you currently possess to obtain what you want? There are advantages to both selling and trading, and making the right decision can mean the difference between getting the vehicle you want or losing out on money you desperately need.
The Art of Selling
There's something that can be said about selling your car. As a matter of fact, there are quite a few things. Like any major financial decision, selling your car comes with pros and cons. The most notable advantage of selling it in a private sale is that you're in the driver's seat regarding the entire transaction. You set the price, you're in charge of how you market the sale to potential customers, and should the situation warrant it, you know just how much you're willing the lower the price without being lowballed.
While the aspect of being in complete control of the transaction might be appealing, there are disadvantages that accompany doing so. With any endeavor that you're in complete control over, every detail is a responsibility that falls upon your shoulders. Take into consideration just how much work there is before naming an appropriate sticker price. Even getting it properly inspected, detailed to look presentable, and advertising it to the right clientele can be an arduous task itself.
It's easy to get distracted with the prospect of selling your car in a private sale and lining your pockets with some quick cash, but there are always a few details that get forgotten regarding this fantasy. Filling out all the necessary paperwork can be just as stressful as buying a used car, and it's important to keep in mind that your license plates and registration are non-transferable.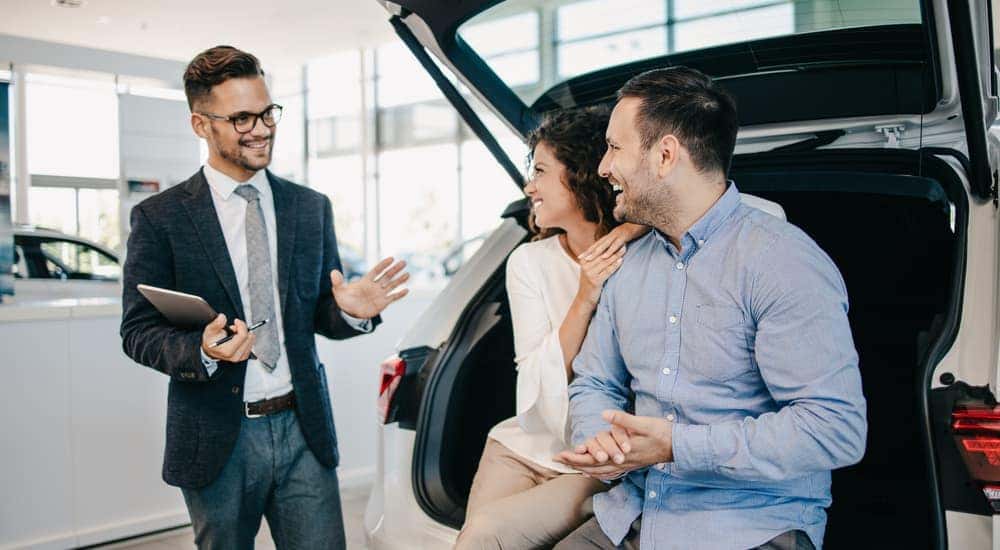 Tale of the Trade-In
If selling your vehicle in a private sale comes across like it's going to be a stressful endeavor, that's because it can be. A trade-in, on the other hand, will not only get you behind the wheel of a vehicle that you've kept your eye on, but the financial benefits are twofold. First off, trading in your car means you'll be getting a break from Uncle Sam. While taxes are another part of life that most people also find stressful, trading in your car will afford you a benefit in the form of a tax credit. When you trade-in your vehicle towards the purchase of another, it works along the same lines as giving a dealership a down payment. Using the money from a trade-in also lowers the tax liability of your new purchase on top of the trade-in value.
Life can get busy at a moment's notice. As the recent pandemic showed us, the unexpected and unforeseen can arrive at a moment's notice and dramatically change preexisting plans or goals. Because uncertainty is part of reality, trading in your vehicle rather than selling it yourself can eliminate some of the stress that comes from selling.
The important fact to remember about a car dealership is this—they're experts in selling. Selling privately not only consists of a lot more work but can also result in a lot more waiting. Putting a car on the market to sell means you'll have to wait for prospective buyers and deal with the probability that you might not have anything to drive in the meantime. (This all depends heavily on the length of your daily commute and how much milage you've listed your car as having in the sales advertisement.) Trading in cuts out the stress of having your car cleaned up, detailed, and made presentable for ideal customers. A trade-in also means you'll most likely be driving home in a new vehicle that day, so your life can be uninterrupted.
Trading Up for a CPO (Certified Pre-Owned Vehicle)
Should you decide to trade in your vehicle, there are some options that you can greatly benefit from. One of these is trading in towards a CPO (Certified Pre-Owned) model. While it's easy to think of buying a used car as a painful experience fraught with a never-ending cavalcade of salesmen attempting to sell piles of junk to an unsuspecting buyer, getting a CPO is nothing of the sort.
Trading in your current vehicle for a CPO is sort of a two-way street. When you decide to trade in your vehicle to a dealership, you're allowing someone with expertise and experience to put in the necessary legwork to make your car an asset to be sold as a part of a dealership's inventory. Unlike a typical used car purchased from a third party or independent seller, a CPO goes through a rigorous process before it hit the market.
While these vehicles are by no means "brand new," the wear and tear on them is minimal, and they usually have very low mileage. Before being sold, a CPO is thoroughly inspected by a licensed technician to make sure it's up to the standards set by the manufacturer. These vehicles have another advantage over buying a used car in the form of a guarantee. CPO vehicles are backed by a manufacturer's warranty that mirrors the type of coverage one might expect for a brand-new vehicle.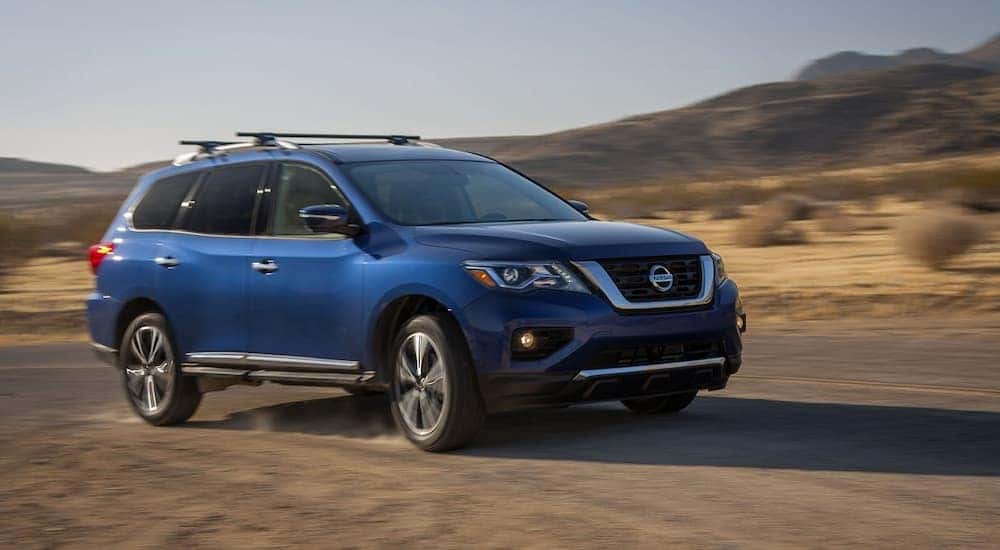 Getting a Nissan Certified Pre-Owned Vehicle
Ever since the first models began rolling off the assembly line, Nissan has strived for the finest in both quality and dependability. When you're ready to trade in your current vehicle and upgrade, you only deserve the very best, and that's why Nissan maintains a high standard of quality for their CPO fleet. All Nissan vehicles must match a select and specific criterion to receive this certification. To be considered for certification, the vehicle must be less than six years old and have less than 80,000 miles on the odometer. Furthermore, all vehicles are subjected to a rigorous 167-point inspection by a technician certified by Nissan.
After a Nissan meets the requirements to be certified, it is given a 7-Year/100,000-mile powertrain warranty. This covers the engine, transmission, and drivetrain and is a promise from Nissan to you that your purchase is important and well protected. To guarantee peace of mind, Nissan also furnishes a free vehicle CARFAX history report with every CPO vehicle, so there's no second-guessing as to where the car has been and what's occurred to it over the course of its existence.
It should also be noted; as a consumer, you have the right to know the history of any car you purchase. If anyone tries to withhold this information from you, terminate the transaction immediately. Here at Illini Nissan, we link to a full Experian AutoCheck report in the online listing for every used model we sell.
Let Us Help You Sell Your Car
At Illini Nissan, we promise you a stress-free experience and a competitive offer when you visit us to sell your car. After you have sold us your car, we have an extensive inventory of new and Certified Pre-Owned Nissan's from you to choose from. We're completely dedicated to you and your safety, and we believe in offering the very best in terms of inventory and customer service. Contact us today to learn how much you can get for your used car.