The 2021 Titan and Titan XD: Which Is the Right One for You?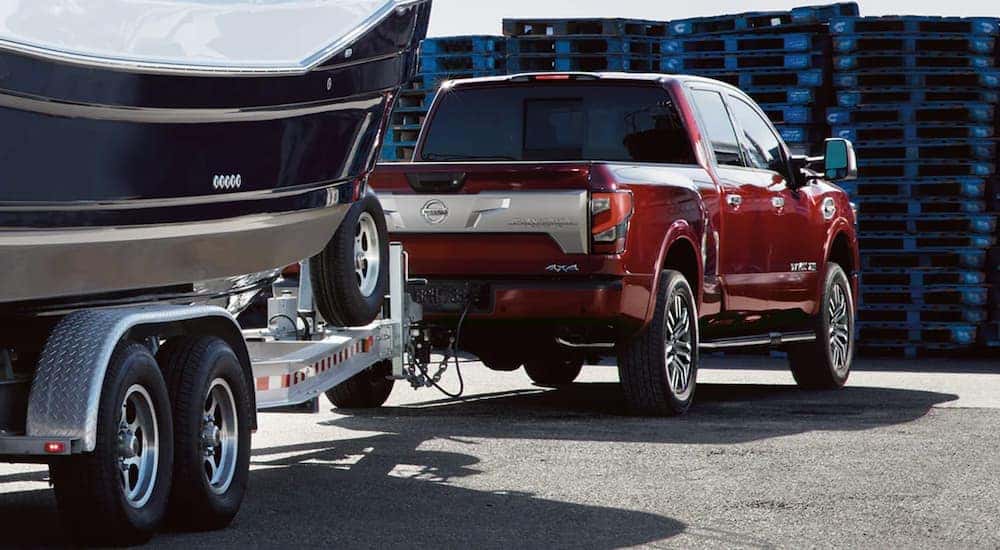 So, you are in the market for a new truck. There are a lot of choices out there, to be sure, but we imagine that you have checked out the Nissan Titan. It's a solid choice and one of the top trucks in the market. You may have already done some research and discovered that the Titan covers most of the items on your must-have list, but there is something you may have missed; the Titan has another version that might appeal more to you and your needs. That's right, the Titan XD could change the way you feel about this truck. While the two choices are similar in several ways, there are distinct differences that could tip the scale one way or the other. So, what are the differences between the 2021 Titan and the 2021 Titan XD? Well, you are about to find out, and once you do, we imagine you will be rushing to Illini Nissan, your Nissan Titan dealership, for a test drive.
What Makes It XD?
This is a rather obvious difference, but since the Titan XD is technically a heavy-duty truck; you would expect it to be bigger than the Titan. While the Titan measures 18 feet and 8.6 inches in length, the XD is 20 feet and 2.7 inches long. That might not seem like a whole lot, but when you take a look at them side to side, it really is noticeable. As far as width, the Titan and the Titan XD are the same. In terms of height, the Titan XD is taller than its little brother. The Titan stands at 6 feet and 2.6 inches while the XD towers at 6 feet and 5.9 inches. Again, it might not seem like much when looking at the numbers, but in a head-to-head comparison, the difference is quite noticeable. Ground clearance is another difference that should be noted. It might surprise you to know that the Titan actually has more ground clearance than the XD.
At the core, the XD is a work truck, regardless of the reasons why you might drive one. The difference in size means that the XD will have better towing and payload capacities, which is essential if you are hauling materials for a living. That is not to say the regular Titan isn't a capable truck; it just means that the XD is more capable than the Titan. It also makes sense the Titan would have more ground clearance as owners of the Titan are probably more likely to utilize their truck in off-road applications.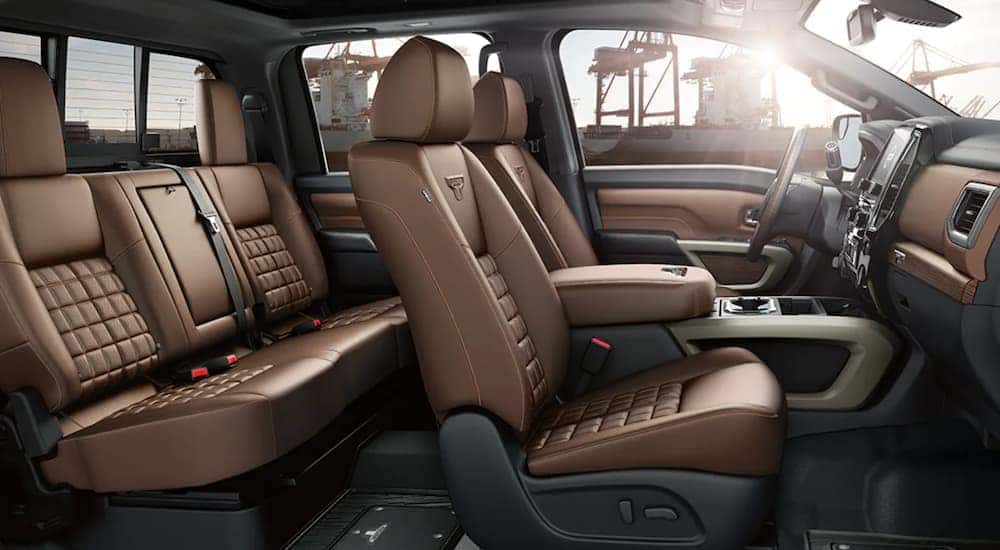 Power and Capacity
What is somewhat of a surprise is that both models share the same drivetrain, a 5.6-liter V8 with 400 horsepower and 413 lb-ft of torque. However, the XD can tow up to 11,040 pounds while the Titan maxes out at 9,310 pounds. There is a discrepancy in the payload as well; the Titan boasts a maximum payload of 1,690 pounds, and the XD has an impressive payload of 2,930 pounds. Again, this proves that the XD is built for work. While both trucks are great and have similar performance, if you need the most capability possible, you are going to want to go for the XD, but if you don't need the higher capacities, we recommend getting the regular Titan.
Should you choose the Titan for your next truck, you should know that it comes standard with front-wheel drive, though four-wheel drive is an option. The XD comes standard with four-wheel drive. Since four-wheel drive is an option on the smaller Titan, we shouldn't think that this would be a dealbreaker when deciding which one to buy.
Cost and Other Factors
As with any substantial purchase, the cost is often an important factor. One thing to remember is that when you are buying a Nissan Titan or the XD, you are making an investment. Both choices will give you years of service as they have a proven track record of being reliable and dependable. Additionally, if you will be utilizing your Titan as a work truck, both models are built tough and will take whatever punishment you will dole out.
The starting price of the Titan model is $36,950, while the Titan XD starts at $45,430.* Both are a good buy, there is no doubt about that, but there are considerations you should make when determining which is suitable for you. A straightforward way to determine which is right for you boils down to the towing and hauling capacities. If you need a truck that is capable of hauling a lot and towing over 11,000 pounds, then you should definitely choose the XD. But if you don't have to tow that much weight, the regular Titan still makes an excellent choice for a work truck.
The XD is going to be a better fit if you need a truck that can handle the daily grind of towing, hauling, and driving through construction sites where the roads are rough. On the other hand, if you will be towing your boat to the lake on the weekends and driving your truck to and from your job at the office, then you should be quite pleased with the regular Titan model.
There is no right or wrong choice when deciding which Titan should grace your garage. They are both functional pickup trucks that offer the features you desire. The most significant factor you will probably consider is price. If both trucks fulfill all of your needs, you might opt for the Titan because it has a much lower starting price while still having an excellent amount of features.
However, at the end of the day, both of these trucks will make excellent commuters as well as workhorses. Both models offer seating for five with plenty of interior space. Both trucks come standard with an 8-inch touchscreen infotainment system that can be upgraded to 9-inches with Apple CarPlay and Android Auto. Both models also come with numerous safety features, including Lane Departure Warning, Rear Cross Traffic Alert, and Blind Spot Warning. As far as looks are concerned, both the Titan and the Titan XD are sporty models with stylish looks.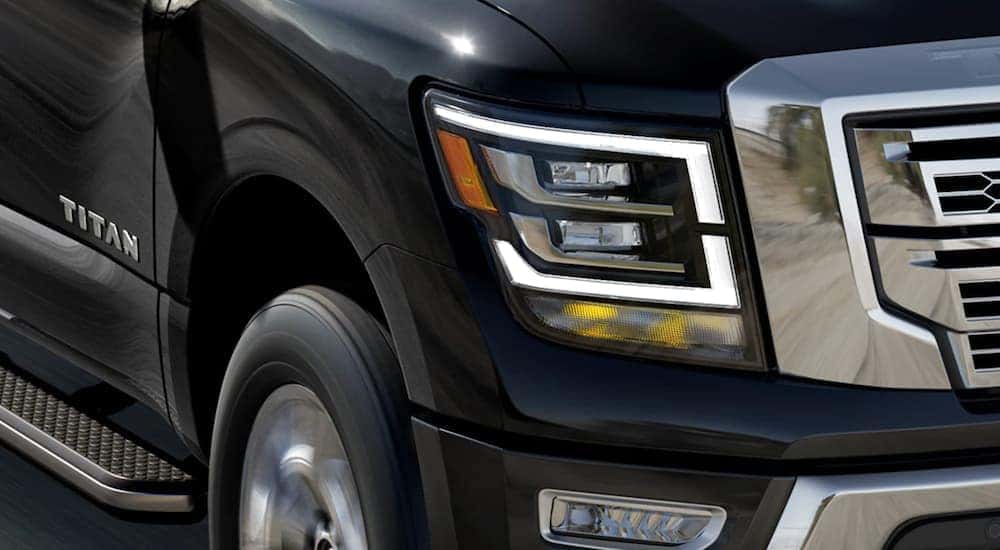 Where to Buy Your Nissan Titan
When you visit our dealership, you become a part of the Illini Nissan family. You will be greeted by a friendly staff member with a smile on their face, eagerly awaiting any questions you might have. We strive to go above and beyond your highest expectations and to do this, we listen to you to understand your desires and news in a vehicle. That's why we should be your first stop when trying to decide between the Titan and the Titan XD. We can help you compare your options and give you suggestions on which models will be best for you.
Say goodbye to the old ways of car buying; we promise a hassle-free experience that will leave you wondering why you haven't visited us before. Our dedication to you does not end when you drive off of our lot in your new or used Nissan. We are here when you need routine maintenance or repairs. Our service center is staffed with friendly, knowledgeable, and well-trained technicians who will diagnose and repair your vehicle correctly the first time. So take the time to head on over to Illini Nissan and let us help you get behind the wheel of your dream Nissan Titan or Titan XD.
*MSRP may change without notice. See dealer for complete details.