Trading in to Trade Up: What to Know About Trading in Your Current Vehicle for a New or Used One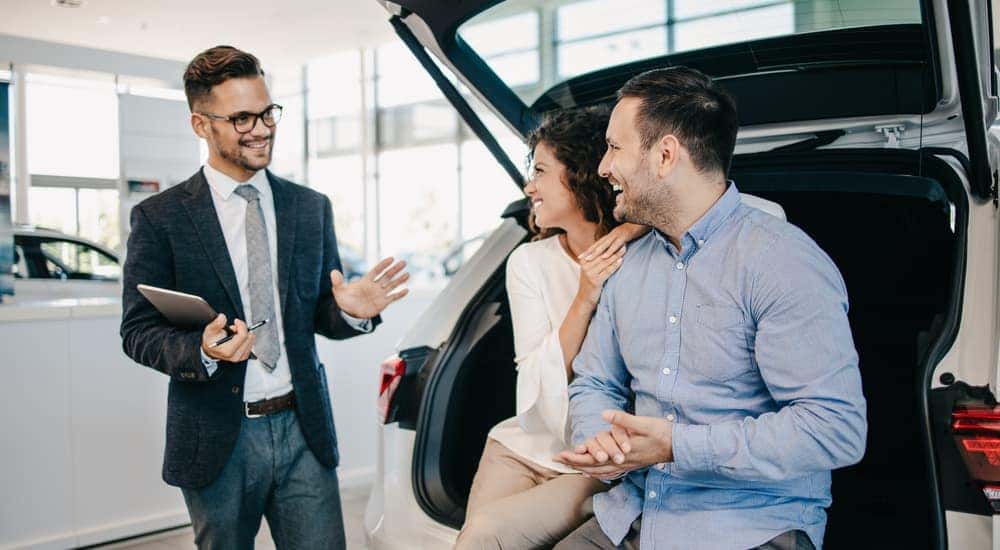 Obtaining effective and reliable transportation is a goal for many consumers. Drivers often find themselves in the position of wishing to acquire a newer vehicle or simply upgrade from what they have right now. Many dealerships advertise services where they'll purchase your car or allow you to trade it in and use it as a form of equity. There are a few things you should look into prior to pursuing a trade or sale of your car.
Before researching a new model, you'll want to know your trade in value, if your vehicle is up to date on repairs and routine maintenance, and whether or not trading in for a new or previously owned car is best for you. At Illini Nissan, we have an extensive selection of new and used cars, trucks and SUVs that can improve your quality of life. Today we'll be breaking down the process step by step to help you make an informed decision about trading in to trade up.
Determining Its Value
Before you take your latest set of wheels to the dealership, it's best to know its current value. There are a variety of resources available to help you make this determination. The first thing you need to know is that all vehicles, regardless of the make and model, go through a depreciation process. This begins when a new car is sold and driven off the lot. Depreciation isn't a linear process, and the rate at which it decreases in value varies from vehicle to vehicle. For instance, the Nissan Leaf depreciates quickly, while many Toyota and Jeep models retain a considerable amount of their resale value.
The quickest way to determine your vehicle's value is using Kelley Blue Book (KBB), as they continually update vehicle values based on the current market. However, the values listed in KBB are usually ballpark figures; other determining factors contribute to the value of your vehicle. Accidents, mileage, and overall structural and interior quality also play a major part in determining value. When you're getting ready or thinking about trading in your vehicle, it's a good idea to have it looked over by a mechanic. If any lingering repairs need to be done, you should take care of them beforehand. Having it detailed and thoroughly cleaned is also a good idea.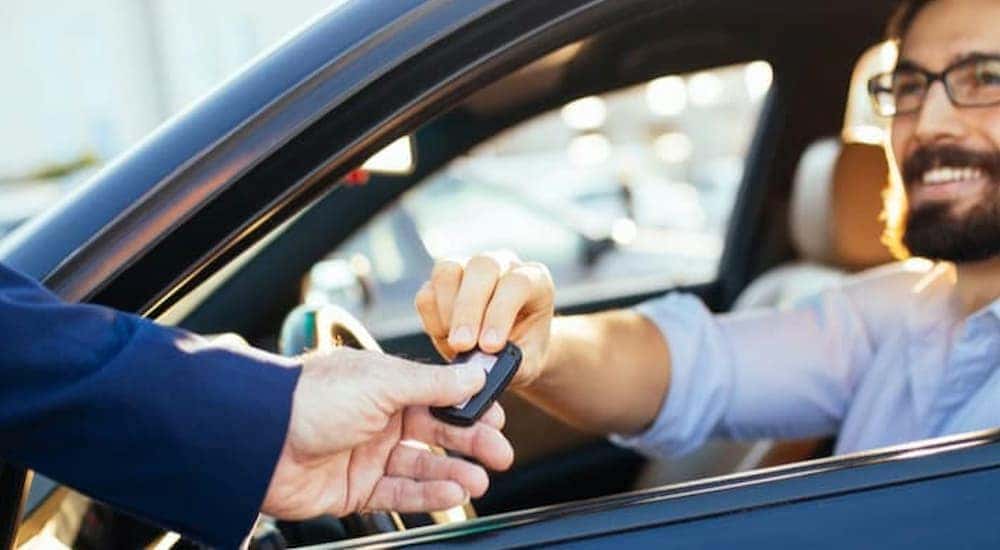 Trading in for a Used Car
With the ongoing microchip shortage, many consumers are looking to purchase used cars. Production quotas from many manufacturers aren't as high as they've been in years prior, and as a result, some of the advanced features might not be available on certain makes and models. Trading in your pre-owned vehicle to a dealership to purchase another used one can be a very cost-effective and advantageous option.
For instance, if you have a recently-manufactured car and trade in for a used vehicle that's slightly older, you could pay very little extra out of pocket. A major part of this process is what's known as equity. When a used car is traded in and paid off in full, you have positive equity. You can use the trade-in total to purchase another used car. When you decide to go with another pre-owned vehicle, you'll also find that your insurance premiums are much cheaper than those of a car manufactured for the current model year.
Trading in for a New Car
It's true. Trading in your current vehicle for a used one can be very cost-effective; however, some drivers favor peace of mind and don't mind paying a little extra for a new car. Cars, trucks and SUVs manufactured for the current model year are free from wear and tear, allowing for a fresh new start. Various warranties also cover a new vehicle by the manufacturer, which will usually cover certain aspects such as the powertrain, drive train, and offer roadside assistance if necessary.
Before you trade in for another vehicle, you must examine its value to date and the status of your current car payment, if applicable. If the value of your vehicle is less than the outstanding payment that you still owe, you have what's known as negative equity. Forbes Magazine refers to this as being "underwater" on your current loan. It doesn't disqualify you from trading in, as you'll still be able to trade in your car, but you'll have to cover the balance between the loan's remaining balance and the trade-in value.
If you plan on trading for a brand new vehicle, you'll use the trade-in as equity. While this will offset the initial cost, you should be aware of another cost that usually comes from insurance premiums. New cars that are either leased or financed sometimes require you to take out full coverage on your purchase, so it's best to shop around and consider your options.
Some Extra Tips for Trading In
Besides the important choice of trading in your vehicle for a new or used one, there are other mitigating circumstances to consider. These come from your current situation and knowing when the right opportunity comes. These tips can help you make the choice that works best for you.
Low on Mileage, High in Resale Value
Wear and tear are a huge factor in determining what your car is worth. A dealership might still purchase your vehicle if you have placed a lot of mileage on it, but the lower your mileage is, the higher the resale value is.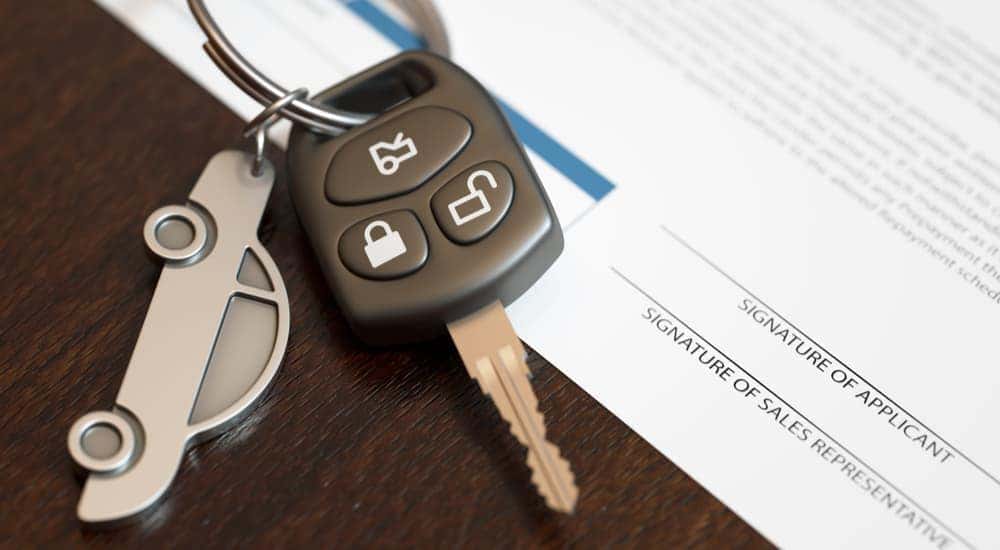 Wait Until the End of the Year
If you can hold off on trading in your vehicle until the end of the year, you might find yourself snatching up an impressive deal on a new car, truck or SUV. This is because many dealerships are trying to clear out inventory to make room for the makes and models for the upcoming model year.
Too Much Is Never a Good Thing
All vehicles require service and routine maintenance. If your repair bills are piling up at a rate that's hard to keep up with, trading in can be an excellent option to start saving some of the money you're spending.
Shop Around and Keep Your Options Open
You don't have to do a lot of market research, but taking your car to different dealerships and seeing the offers is always the best option. One might offer you more for your trade-in, and another might sell you a new vehicle for a lower price. Shop around and make sure you get the very best deal.
Final Thoughts
One of the best things about trading in to trade up is that there are a wealth of advantages depending upon what you choose. Whether it's the peace of mind from obtaining a new car or the cost-effectiveness of a used model, several options are ideal for your current situation. If you decide on trading in for a new vehicle, consult sources such as Consumer Reports, which give detailed reviews on all cars, trucks and SUVs for the current model year. If you decide upon a used model, make sure that the dealership shows you a CARFAX report showing the detailed history of the vehicle you plan on purchasing. And remember, as a consumer, you have the legal right to know this information.