2022 Nissan Rogue Buyers Guide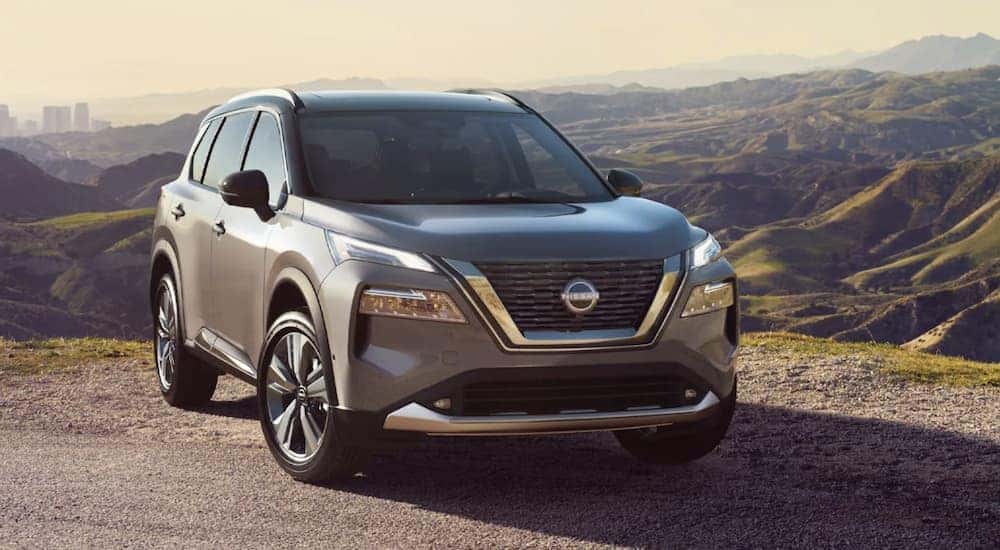 You need a vehicle that serves you and your family for practical day-to-day needs, but maybe you want this vehicle to look nice and avoid the run-down minivan look. Have you looked at the Nissan Rogue? As your Rantoul Nissan dealership, we would like to offer you a tour of this excellent SUV, which has made significant advancements for the 2022 model year. Rather than purchase a vehicle with highly practical features and low performance and design features, the Rogue offers an alternative option in providing a highly practical, highly performing, and highly refined vehicle. Nissan is known for making excellent luxury vehicles, and the Rogue does not back down from this standard. We have put together a Nissan Rogue buyers guide to help you better understand all that this vehicle has to offer.
Performance
Practicality is not merely about passenger space and helpful technology. It certainly includes those things, but performance capabilities can make a bigger difference in day-to-day practicality than you may think. Not only is it practical, but the 2022 Rogue's engineering is exciting. The 2022 Rogue hosts Nissan's newest innovation: the VC-Turbo engine. This engine literally transforms itself on demand. How exactly? It uses an advanced multi-link system which allows it to lower its compression ratio when the accelerator is activated, thus giving it greater power; take some pressure off of the accelerator, and the ratio will begin to rise again.
This is paired with the advanced Xtronic Continuously Variable Transmission. With 14% wider gear ratios and lower internal friction, this transmission allows the Rogue to stretch every gallon of gas as far as possible. The 2022 Rogue is rated at an EPA-estimated fuel-efficiency of 30 miles per gallon in the city and 37 miles per gallon on the highway. Those are impressive numbers for any vehicle, and it will pay off dividends over time. Think about the money and the stops for gas that will be saved over time. If you are debating whether to book a flight or to road trip for your next family vacation, the 2022 Rogue makes it a very easy decision to road trip with its high fuel efficiency.
Believe it or not, the 2022 Rogue has some pretty impressive off-roading capabilities. But you need not be an off-roader to benefit from the vehicle's off-roading features. You may find that they come in handy on a day-to-day basis. With intelligent All-Wheel Drive, the vehicle can own the terrain when it is difficult, but when you're cruising down the freeway, 2-wheel drive will send the power to your front wheels, ensuring that your Rogue is running efficiently.
Your day-to-day practical needs may change with the season, so you'll want a vehicle ready to handle all seasons and all terrains. With five drive modes, the 2022 Rogue is prepared to handle whatever it finds under its tires while making sure you have a safe and enjoyable ride. With Sport, Off-Road, Snow, Auto, and Eco modes, you will be ready for various scenarios. Auto Mode will give you the balanced performance to handle your regular commute, the trip to the grocery store, and so on. Eco Mode will help you reach the Rogue's full efficiency (which, as we have established, is quite high), and Snow Mode will help you maintain good traction when roads are slippery and conditions are bad. You and your family need to stay safe, and between these five drive modes, the Rogue will help make safety easy.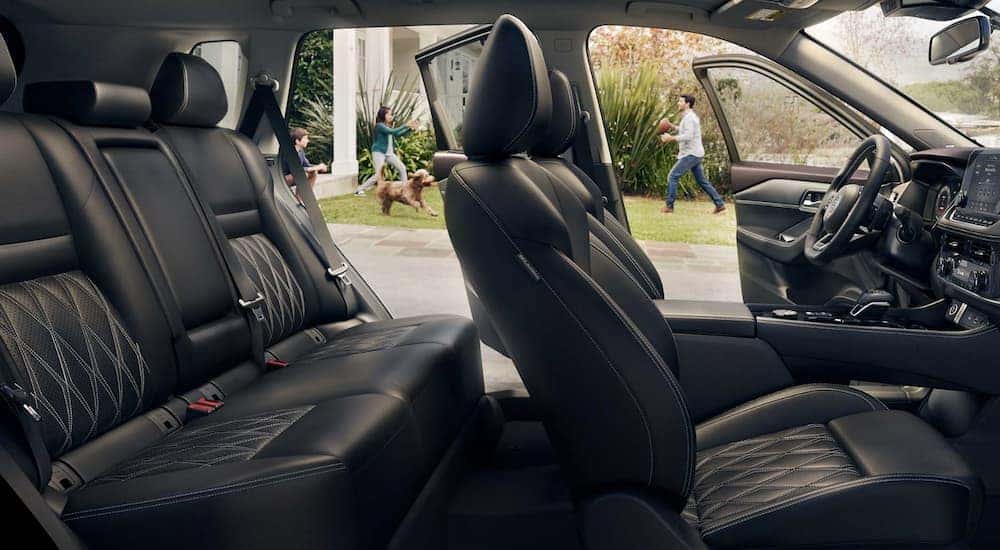 Design
Nissan is known for design and does not cut corners when supplying drivers with luxury features. The Rogue's luxury, however, is not a kind of adults-only luxury; rather, it is an extremely family-oriented vehicle with many features designed specifically with families in mind. For example, the rear doors open almost 90-degrees, making it far easier to load/unload and to get kids into and out of car seats. Speaking of car seats, lower anchors in the center of the rear seat make it incredibly easy to secure LATCH-compatible child car seats in any seating position. Additionally, rear door shades protect your children from bothersome sun rays to make sure that they have a comfortable ride. The Rear Door Alert system will even remind you to make sure that you haven't forgotten about your sleeping child.
Both the kids in back and the adults up front will thoroughly enjoy the dual-panel panoramic moonroof; whether you're soaking up the sun or gazing at the stars, you'll have a great view. If mom and dad are both going to be driving the Rogue, the Memory System will be an especially appreciated feature. This advanced system works with the available Nissan Intelligent Key to keep the seating and mirror positioning for two different drivers in its memory, thus configuring itself to this position depending upon the driver. The craziest part? It configures itself before you even get in!
Now, if you're going to be packing the whole family up, whether on a day-to-day basis or even just for a vacation, you're going to need space. The Rogue provides this space. It may not look like the most spacious of all vehicles just upon looking inside; however, it transforms itself through its remote-folding rear seats and its Divide-N-Hide system, which allows for up to six different storage configurations. All of this makes for a grand total of 74.1 cubic feet of cargo space. Whether you need to store a lot of small items for different people or one big item for one person, this flexible and spacious storage will bend to your needs.
There is so much to be said about the convenience of the 2022 Rogue's design. We haven't even gotten to the under-shifter storage, the tri-zone automatic temperature control, or the remote engine start system. But the interior of the Rogue and its technology is very closely integrated, which brings us to the vehicle's outstanding technology features.
Technology
The 2022 Nissan Rogue contains a lot of information, and it wants to make sure that you have easy access to it. This is why it includes three different digital displays. You're likely familiar with the now-standard infotainment touchscreen. The Rogue certainly has that, but it adds two more displays in its digital dashboard and head-up display. However you want to access information, the Rogue will provide it.
Connectivity will be made easy through available Apple CarPlay and Android Auto; these systems are supported by wireless charging, making sure that the connected device is always well-rested. Of the Rogue's available connectivity features, the excitement really comes in with the navigation, with 3 options provided. Nissan Door to Door Navigation offers available 3D building graphics and turn-by-turn navigation. Built-in Google Maps allows you access to the popular navigation app right in your very own vehicle; gone are the days of looking down at your phone or asking your passenger to look up directions on their phone. On a unique note, Waze offers real-time crowd-sourced updates on road conditions, including traffic and accidents. Connectivity has become a huge part of the driving experience, and the Rogue follows this trend with its advanced in-vehicle technology.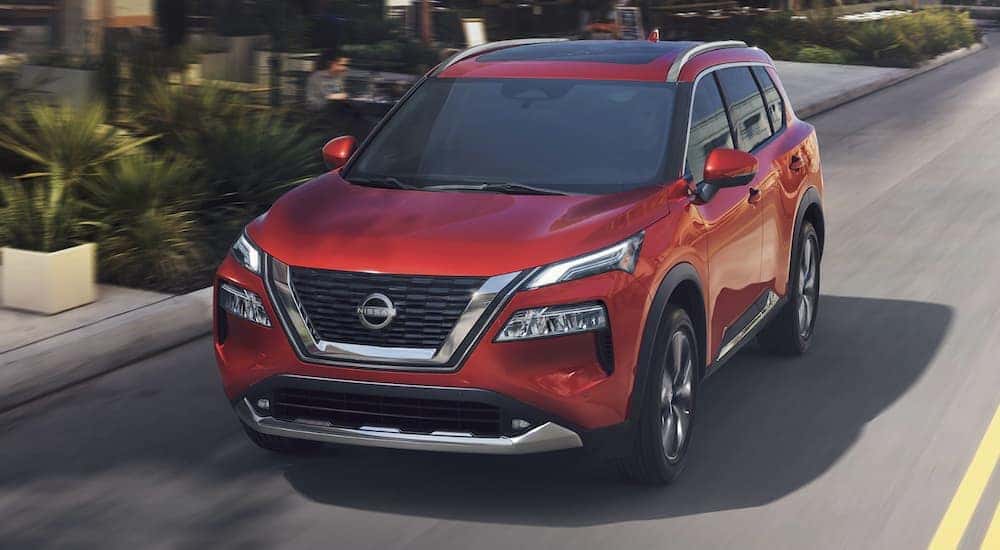 Finding the Fun in the Practical
The 2022 Nissan Rogue is indeed a highly-practical vehicle. But it is not a vehicle that stops at the practical, giving only the bare necessities. It goes above and beyond, thinking of the things families most need and incorporating them into its luxury design. With its exciting and safety-oriented engineering, its excellent family-focused design, and its highly-connected and available technology, the Rogue is a great fit for families on the go. Come on over today, and we'll let you hop in for a test drive!