Nissan Frontier vs. Toyota Tacoma: Which Is the Better Off-Road Adventurer?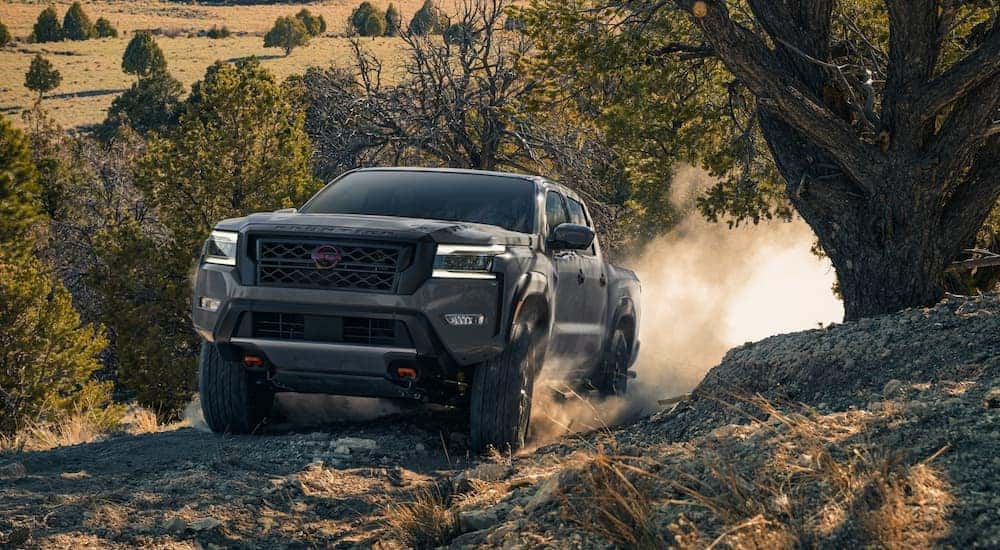 Exploring off-road means something different to everyone, and whether you're seeking to kick up dust on the trails or navigate mountain paths, the truck you choose to have by your side is a crucial part of your experience. Both Nissan and Toyota offer desirable options when it comes to adventurers, the Frontier, which is armed with the PRO-4X package, and the Tacoma TRD Off-Road, outfitted with immense capabilities on the trails and beyond. Here at Illini Nissan, we're your top Nissan Frontier dealer, and when it comes to exceptional performance on the road and off, the Frontier won't let you down. Although both midsize pickups have an impressive number of fans, there's no denying that one of these trucks outperforms the other when the conditions underneath their tires get a bit rough. When it comes to the Frontier vs the Tacoma, see which truck delivers the power, capabilities, and agility you need when you're looking to harness the excitement of your adventure.
Nissan Frontier PRO-4X
The latest Nissan Frontier is undoubtedly impressive, due in part to the fact that it has received its first ground-up redesign in over 15 years. Its PRO-4X model is built to heighten your experience on the trails with a fierce design and undeniable abilities that make it difficult to compete with this midsize marvel. From a rugged stance to helpful tech, added off-road extras to its sheer confidence in any situation, you'll be able to tell, at first glance, that the PRO-4X is different from the rest. Bilstein off-road shocks allow for increased comfort and control on any type of terrain. When you're met with rocky obstacles, rest assured that these enhanced shocks will do their job of protecting your vehicle, as well as offering up a smooth ride.
The PRO-4X is loaded up with all you need for off-road exploration, like reinforced skid plates for ample protection of the Frontier's important components, like its engine, fuel tank, transfer case, and more. This allows you to be able to delve deeper into nature without the worry of damaging your truck because the Frontier PRO-4X can take it. Standard all-terrain tires also help you venture further off the beaten path, and with an electronic locking rear differential, you'll be able to enjoy equal power to its rear wheels for maximum traction and control. Its bold appearance is accentuated by athletic overfenders, and with Dark-finished 17-inch aluminum-alloy wheels, there's no doubt about it that you're about to make quite the entrance on the trails.
In addition to offering an enhanced build and plenty of off-road-ready features, the 2022 Frontier PRO-4X showcases helpful tech to help you navigate more confidently when the environment around you is unfamiliar. Its Intelligent Around View Monitor with Off-Road Mode provides a clear image around your vehicle, reducing your chances of making contact with various obstacles, and keeping you more aware of your surroundings. Plus, with its specialized off-road gauges, your Frontier will keep you informed of stuff like pitch, roll, and 4×4 engagement, so all you need to do is enjoy the ride.
Lava red accents, including tow hooks, exclusive badging, and distinctive interior stitching, create a look that just emanates ruggedness. In addition to all of the features you can see, the Frontier is armed with a powerful 3.8L V6 that provides it with 310 horsepower and 281 lb-ft of torque to power it through even the most treacherous scenarios with strength and finesse. When it comes to off-roading, the Nissan Frontier PRO-4X has what it takes to surge ahead on the trails, making it a favorite among adventurers near and far.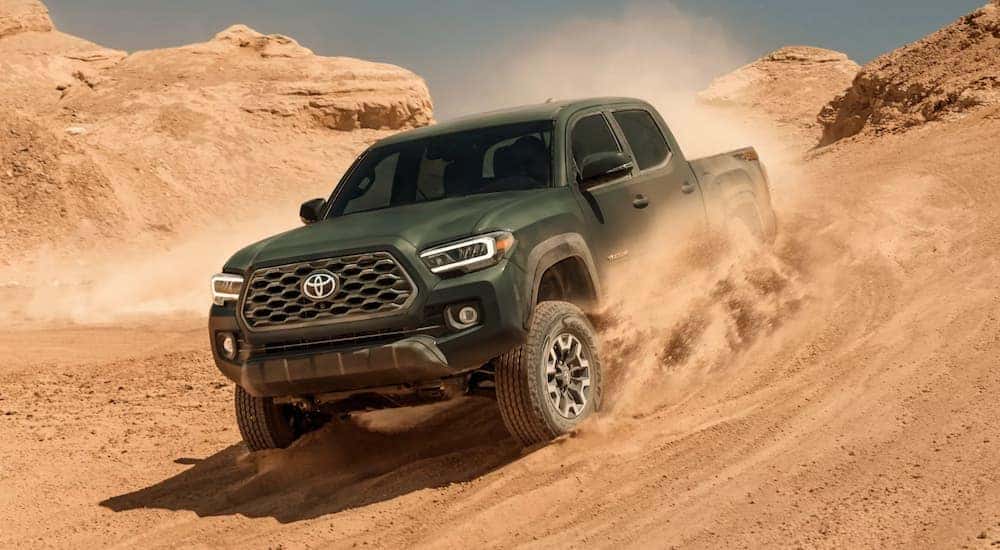 Toyota Tacoma TRD Off-Road
Like the Frontier, the Tacoma also has its loyal fanbase. Due to its unmatched reliability, high-end performance, and reputation of excellence, this Toyota midsize truck is one of the top-selling pickups on the market, but can it compete with everything found in the Frontier PRO-4X? The Tacoma TRD Off-Road edition provides its own take on adventure, offering many of the same features found in the PRO-4X, like Bilstein shocks, a locking rear differential, and a rugged stance to allow it to tackle the elements of nature head-on.
The Tacoma TRD Off-Road is equipped with 16-inch wheels, as well as projector-beam headlights to give it the ultimate off-road feel. Multi-Terrain Select with Crawl Control allows it to navigate different types of terrain, even rocky environments with unhindered focus. Hill Assist Control provides maximum confidence in steep situations, making the Tacoma a beloved off-road companion for many, no matter where they're traveling. Its dynamic 3.5L V6 offers up a nice amount of power, making 278 horsepower and 265 lb-ft of torque, which is less than you can expect to find with the Frontier. Its six-speed automatic transmission has also been reported to misbehave, oftentimes offering up a rough, less refined ride, which should be taken into consideration when interested in this model.
Overall, the look of the Tacoma TRD Off-Road edition is fierce, with a strong build consisting of black overfenders and a chrome-finished rear bumper. On the inside, the Tacoma TRD Off-Road contains enhanced elements, like fabric-trimmed seating and a 10-way power-adjustable driver's seat; however, it is known to be a bit cramped inside. It's also lacking when it comes to storage solutions, which can be a problem, especially when you're looking to stay organized during your adventures. All in all, the Tacoma TRD Off-Road is an exceptional truck for off-roading, but it falls down a couple of notches with its unimpressive design layout.
Nissan Frontier PRO-4X vs Toyota Tacoma TRD Off-Road
It's evident that both the Frontier and the Tacoma exhibit fierce driving dynamics, especially off-road; however, there are definite differences when comparing these two adventurers side-by-side. For one, the Frontier has been completely reimagined for the 2022 model year, offering up some of the most influential features found in modern pickup trucks, including enhanced performance elements and an all-around better design. Its engine is more powerful than the Tacoma, offering up more acceleration and low-end power. When it comes to the ride, the Tacoma has been known to be quite rough, despite having a lot of the same features as the Frontier, like enhanced shocks and a fine-tuned suspension system.
Another big difference between these two explorers is their designs, with the Frontier showcasing a completely revitalized look inside and out. The Tacoma, on the other hand, has been known to disappoint here with its more utilitarian style and lack of interior space. It also isn't going to win any awards when it comes to storage. In the end, the Frontier just performs better, it looks more modern, and it provides a better ride than the Tacoma, especially when you're searching for your next off-road adventure companion.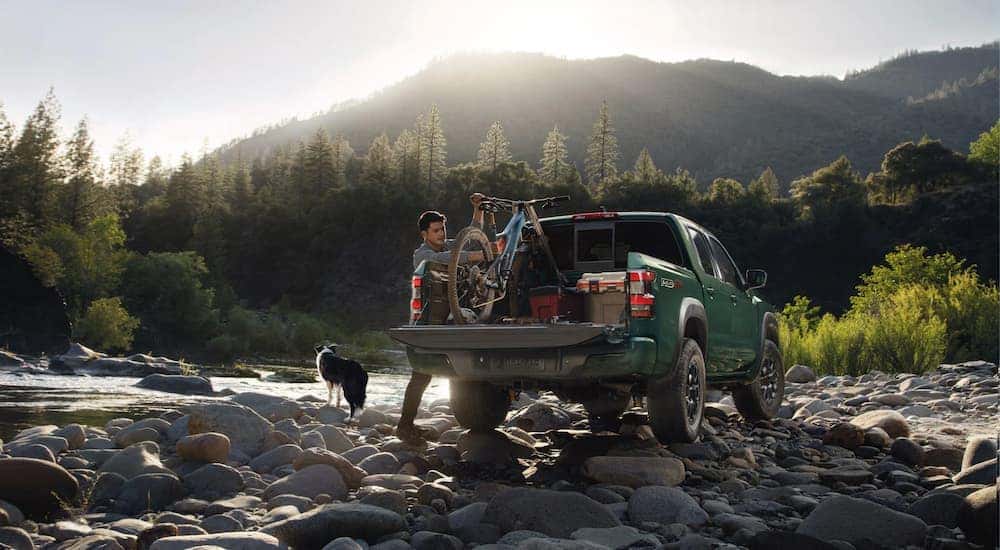 The Ultimate Off-Roader
There's nothing quite like the feeling you get when you're trekking through nature, flying high over dirt mounds, and navigating treacherous lands with undeniable agility. That's exactly what you can expect when you get behind the wheel of the Nissan Frontier PRO-4X. Not only does it feature a bold, rugged appearance, a durable build, and loads of off-road-ready elements, its presence is heightened, due to its reimagined design, perfect for the avid off-roader. When you're ready to make a statement, the Frontier, whether it's a new model or a pre-owned model, is a top choice, and when you're ready for an unparalleled car buying experience, Illini Nissan can deliver. If it's time for exploration, let the Nissan Frontier show you what it's capable of on the trails and beyond.